2020 Election Information
Bethel Township has received several questions related to the upcoming election as to the two referendum issues.  Both referendums are a result of re-zoning cases that went through the public hearing process as required by the Ohio Revised Code (O.R.C.) for properties that are requested to be rezoned.  Click here if you would like to see the process for re-zoning requests. 
Both issues will be on the Bethel Township Ballots for the November 3, 2020 General Election.  In an effort for all voters to be informed, below is the ballot language and a brief history of the cases.  Each case was recommended for approval by the Bethel Township Zoning Commission on December 19, 2019 and approved by the Bethel Township Trustees on January 14, 2010.  In each case a "YES" vote will allow the requested re-zoning to occur as approved and a "NO" vote will overturn the approval and deny the requested re-zoning.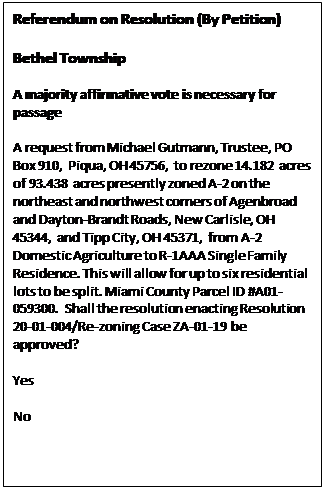 Brief History – US Route 40 and Palmer
An application for re-zoning was received from Trevor Bean (owner of the land) for the 71.55 acres of land on the Southeast corner of US Route 40 and Palmer Road.  The request was for 61.55 acres to be re-zoned R-1AAA (Single Family Residential) and 5.00 acres to be rezoned B-2 (Office/Residential District).  The R-1AAA would allow for 2 acre lots without sewer service or 1 acre lots with sewer service, either one would require 175 feet of road frontage for each lot.  Even though a plan was submitted, the final configuration could change as long as the above minimums were met. The applicant has stated he would use the plan submitted in the zoning application.  The 5-acre B-2 would be allowed any of the uses permitted in that district, which is the case for any rezoning. (click here to see the uses permitted by the Bethel Township Zoning Resolution). 
Brief History – Dayton Brandt/Agenbroad
An Application for re-zoning was received from Michael Gutmann (a trustee of the trust of property owners) to rezone 14.182 acres of land from the larger 93.438 acres to R-1AAA.  The request was to create 6 residential lots all with a minimum of 2 acres and 175 feet of road frontage.  These lots would be both on Agenbroad and Dayton Brandt.